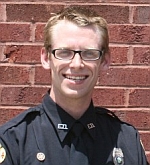 QUESTION: How do you explain the difference between "AV block" and "AV dissociation" to your students?
Our Expert today is Christopher Watford, BSc, NREMT-P
Christopher began in EMS as an EMT on a volunteer industrial fire brigade at GE's Global Nuclear Fuels facility in Wilmington, North Carolina. He has worked there as a Lead Software Engineer since 2001 and currently is a Captain on the fire brigade. Outside of his day job, he volunteers as a Paramedic and Field Training Officer for Leland Volunteer Fire/Rescue where he also serves on the board of directors.Through Cape Fear and Brunswick Community Colleges heteaches continuing educat ation for all levels of providers. He also is an associate editor for the EMS 12-Lead Blog and Podcast, presenting electrocardiography case studies for pre-hospital personnel.
Christopher's excellent blog can be found at My Variables Have Only Six Letters. His contributions to EMS 12-Lead can be found at this link.
Answer:
I think the first step in understanding the difference between an atrioventricular block and atrioventricular dissociation is to have a firm understanding of physiological and pathological conduction. The most common example of this is a non-conducted premature atrial contraction (PAC). If an atrial stimulus arrives early enough at the atrioventricular node (AVN), while it is still refractory, forward conduction will be blocked. Likewise in atrial flutter, you typically see one ventricular activation for every two F-waves, due to the physiological rate limiting by the AVN. However, as this is due to the physiological function of the AVN we would not consider this a block!

In higher degree AV blocks, we encounter a pathological decrease in conduction and so we label non-conducted stimuli as "blocked". Type I and Type II AV blocks provide visual confirmation of pathological conduction as you have examples of both conducted and non-conducted stimuli. However, in the case of a presumed complete AV block, it is important that you look at whether the atrial impulses were blocked or simply not conducted. With monomorphic ventricular tachycardia you may see uncoordinated atrial and ventricular impulses on the ECG. In this case the ventricular rhythm and the atrial rhythm "compete" for access to the AV nodal tissue. There is no "AV block" present, instead we say they are "dissociated" from the ventricular rhythm. More specifically, we say that the atrial rhythm is dissociated from the ventricular rhythm due to usurpation. Best illustrating the competitive nature of two rhythms during dissociation are capture or fusion beats.

Therefore when classifying dyssynchrony between the atria and ventricles, students should look to see whether conduction blocked due to pathological processes or because the AV node is appropriately refractory.